(Thanks to slapper)
Haideti sa le oferim spatiul pe care il merita si
hardistilor
de la DEF LEPPARD, o trupa cu un sound mult prea special pentru a-i aseza langa americanii cu care concurau prin topuri la sfarsitul anilor '80 si inceputul anilor '90.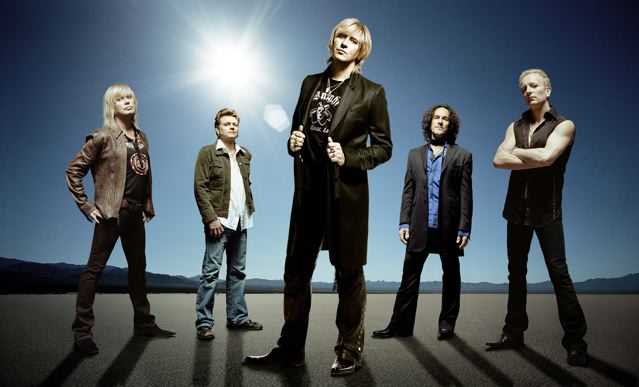 Eu i-am descoperit pe britanici condusi de JOE ELLIOTT si RICK SAVAGE in 1990 cu LOVE BITES (US#1), o piesa lenta din categoria "genocid" si care, prin utilizarea unor synthuri, seamana cu ceea ce produceau prin 1986-1988 si alti "poweri" - Bon Jovi.
Prin 1991 am aflat cat de ghinionista poate fi aceasta formatie: la mijlocul anilor '80 bateristul si-a pierdut o mana intr-un accident auto. Ulterior, Rick Allen a ramas in formatie iar setul de tobe i-a fost modificat pentru a reusi sa cante cu o singura mana (dreapta). La inceputul lui 1991, DEF LEPPARD a ramas si fara chitaristul Steve Clark, mort in urma unei combinatii alcool-medicamente.
Din 1982, DEF LEPPARD au acelasi line-up, exceptand disparitia lui Clark:
Joe Elliott - lead vocals, keyboards, additional guitar (membru fondator, in trupa din 1977)
Rick Savage - bass, keyboards, backing vocals (membru fondator, in trupa din 1977)
Rick Allen - drums, percussion, backing vocals (in trupa din 1978)
Phil Collen - guitar, backing vocals (in trupa din 1982)
Vivian Campbell - guitar, backing vocals (in trupa din 1982)
Consacrea definitiva in neuronul meu a avut loc in special cu LP-ul ADRENALIZE din 1992 si super-single-urile care populau topurile de la Nova 22, Contact si Delta: Let's Get Rocked, Heaven Is, Make Love Like a Man, Tonight, Have You Ever Needed Someone So Bad.
Mai tarziu am aflat si de ce albumul acesta era atat de prietenos - a fost compus si produs impreuna cu Robert "Mutt" Lange, personaj cunoscut mai degraba pentru colaborarea de decenii cu BRYAN ADAMS.
Dupa ADRENALIZE a urmat descoperirea integrala a lui HYSTERIA (1987) iar colectia de hituri din 1995 intitulata VAULT ne-a cam speriat - era perioada destramarilor de trupe dupa lansarea unei asemenea colectii.
Bine ca balada When Love & Hate Collide nu a fost cantecul de lebada...
Albumele de mai sus pot fi considerate "cult" pentru un motiv care nu este/a fost la indemana multor trupe de gen: s-au vandut in peste 10 milioane de exemplare numai in US!
Trupa face parte din curentul New Wave of British Heavy Metal, acel "new wave" neavand in comun cu gusturile noastre "de baza" decat o oarecare componenta glam rock in sound.
Deocamdata stim ca reprezentatia de la Bucuresti va avea loc la Pavilionul Romexpo pe 8 iulie 2008.
In deschidere va evolua trupa fostului Deep Purple DAVE COVERDALE. Is This Love?

Orientativ, pretul biletelor la concertul de Sofia este cuprins intre 40 si 60 de leva (800.000-1,2 mil lei).
Setlistul turneului US din 2007 a fost, in linii mari, urmatorul:
1. "Rocket"
2. "Animal"
3. "Excitable"
4. "Foolin'"
5. "Mirror, Mirror (Look Into My Eyes)"
6. "Another Hit and Run"
7. "Love Bites"
8. "Rock On"
9. "Two Steps Behind"
10. "Bringin' on the Heartbreak"
11. "Switch 625"
12. "Hysteria"
13. "Armageddon It"
14. "Photograph"
15. "Pour Some Sugar on Me"
16. "Encore: Rock of Ages"